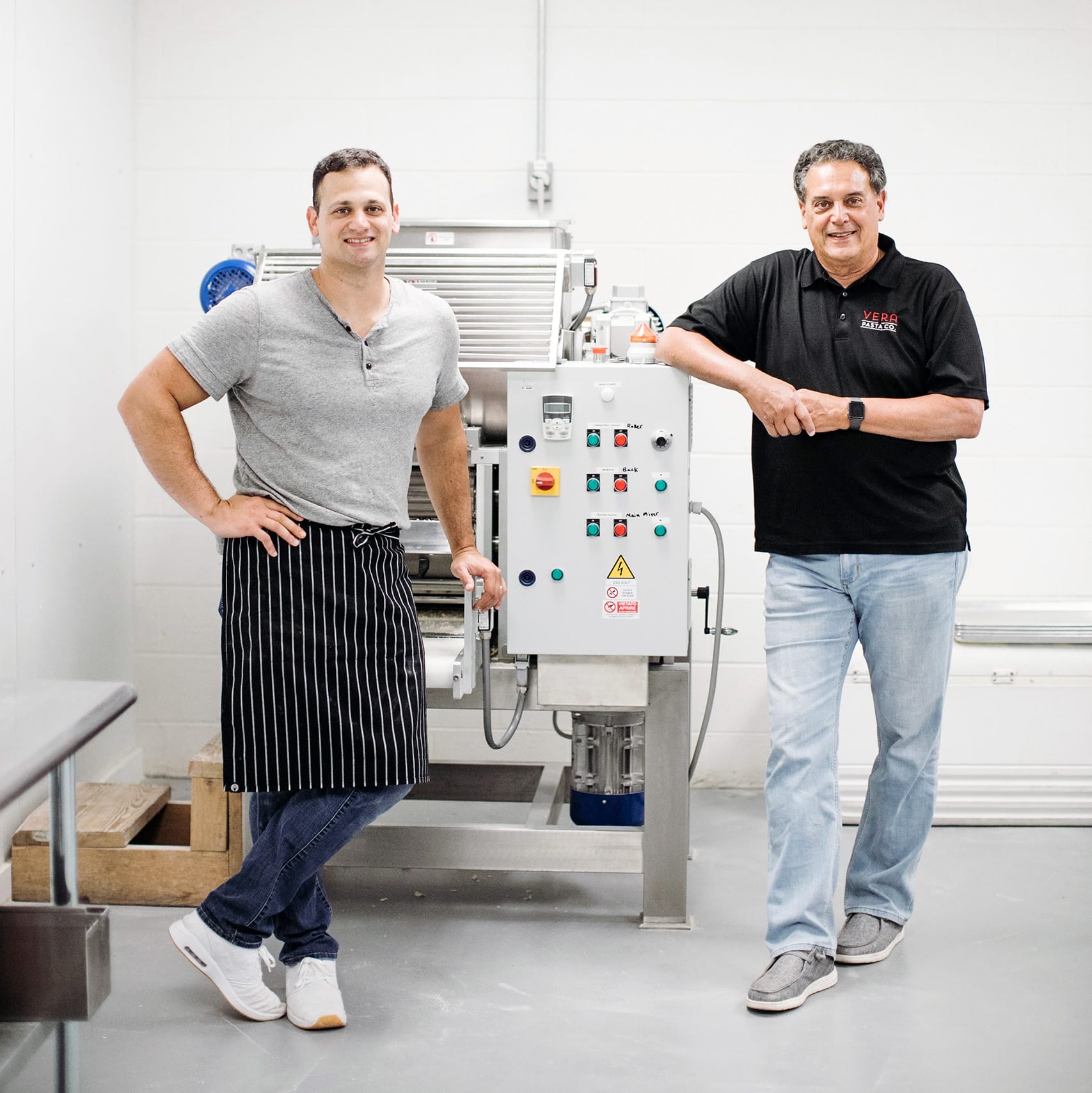 For more than a decade, Vera has sought to package and share the unique, eclectic experience that is bona fide Italian dining with the Great Philadelphia area.
Vera Pasta was born from a lifetime of infatuation with the simplistic yet savory process of creating authentic Italian cuisine. From snooping around his grandma's kitchen as a child to establishing his own kitchen, Chef Joe D'Andrea's passion has never faltered. With each passing year that we're in operation, we're ecstatic to expand our capabilities, creations, and connections with our community.
The Vera team is emphatic about the diligence in the details: the simple ingredients, the slow process and the wholesome experience. And we'd love to share our gourmet pasta goodness with you.
Simple: Natural Ingredients
Universally, all pasta has flour and water, but not all dry pasta is made equal. Unlike the industrial giants of America's dry pasta space, we use simple, natural ingredients with quality over quantity in mind always.
Most of our ingredients are sourced locally, with an emphasis on small-batch productions. The whole plum tomatoes, fresh garlic, onion, and basil come from the community we're proud to serve. 
With deep respect to the artisan way and our fellow small-business friends, we do not use mass  produced ingredients for any of our gourmet pasta products guaranteeing the most satisfying experience short of catching a flight to Roma for a meal tonight.
Vera Pasta subscribes to the age-old technique of pasta extrusion, which originated in South Italy. "To extrude" means "to push out" or "to shape", and it's this traditional method of extrusion that involves pushing dough through bronze dies, which hold the shapes of common pastas.
This high-pressure, high-friction process causes microstriations, or microscopic scratches that can soak up and retain your favorite pasta sauces. When you're cranking out millions of boxes of dry pasta a day like the industry's biggest pasta brands, there's no time for these small details leaving most of the sauce in your bowl and you wanting more out of your meal.
As an artisan business, we know that selection does not always equal superiority. Traditionally, we've kept our pasta catalog tight so we can concentrate on what truly matters: quality, passion, tradition, and innovation.
This has created the opportunity for us to establish a growing and flourishing dry pasta and small-batched jarred sauce line. As our business grows, we hope our reach will, too, with the exciting opportunity to ship throughout the U.S. on the horizon.
Wholesome: Gastronomic Experience
Our pasta shop is proud to specialize in traditional semolina pasta but our flavored gourmet pasta products set us apart from the rest. The flavors we add to our pasta not only enhance their natural tastes but also complement sauces incredibly well giving rise to a wholesome gastronomic experience you will never forget.
In a food product as simple as pasta, using excellent flour is critical. Our flour is sourced from North Dakota, where some of the highest-quality Durum Semolina wheat is grown. Why outsource for special flour? It's simply the best with its ultra fine texture and richness in protein, iron, and flavor.
The Vera vision is to recreate Joe's most fondest memories of authentic Italian meals made from like products that we sell today. From prepping the pot of sauce and soaking up all the delectable smells to being surrounded by your loved ones as you rejoice in your first bite, we hope Vera Pasta can be a centerpiece for your future culinary memories.
While we're excited to expand our shipping capabilities across the country, our local customers remain a top priority. For all of our local customers, we still have available our fresh pasta, ravioli, gnocchi, prepared meals, and fresh sauces.
Stop by our brick and mortar location at 319 Westtown Road, Suite K, West Chester, PA 19382, any time between 9 a.m. and 5 p.m. Monday through Friday. Keep up with us between visits by connecting with us on Instagram!